"The Line To Anchor City" NFT memorabilia coming 28 June!
In the story, "The Line To Anchor City", Alan Bloom and many other uploaded minds like him attempt to join reality again by moving to Anchor City. Upon arrival, they are reinstated back into the physical world and issued an anchor certificate.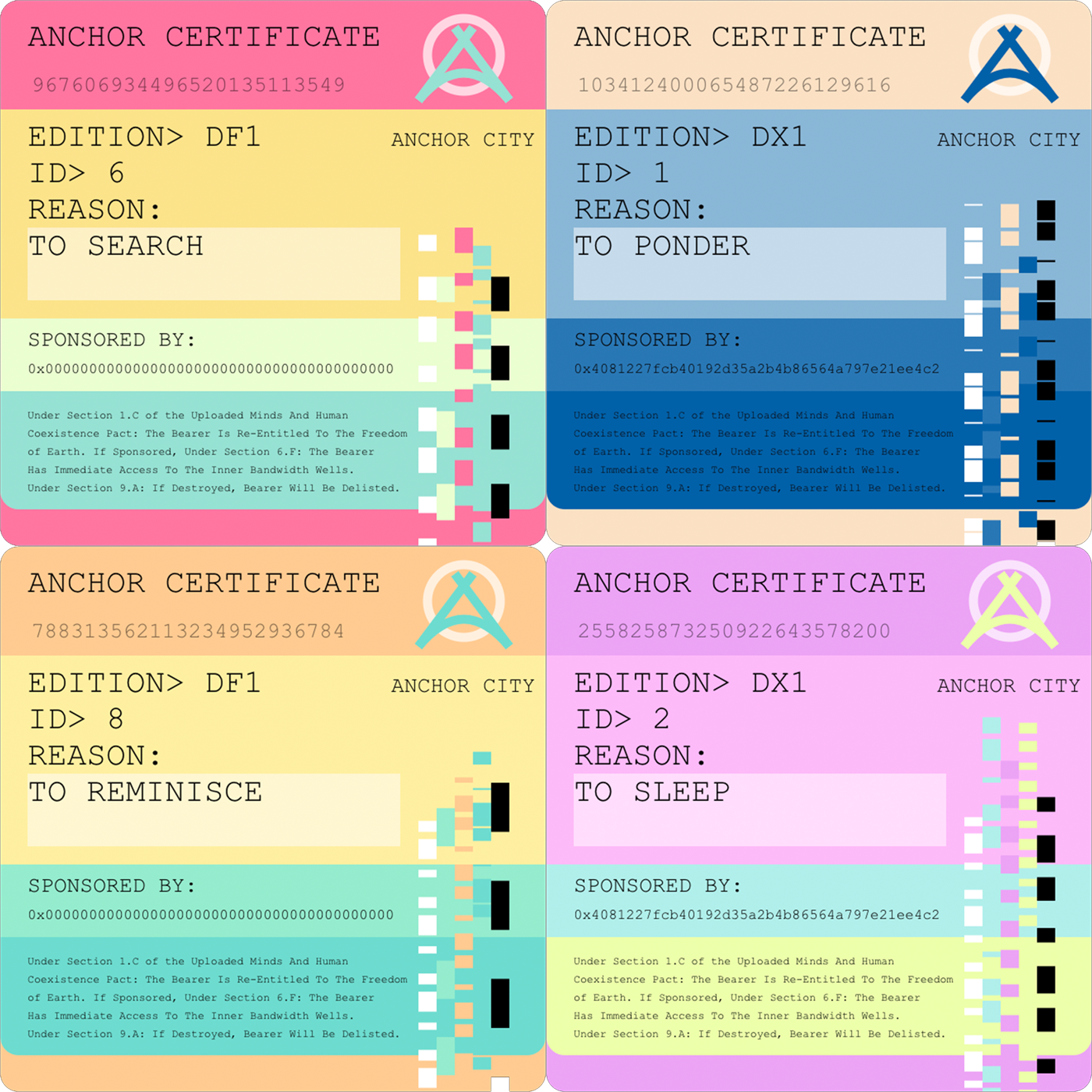 Join him and others by purchasing NFT memorabilia from the story in form of generative art anchor certificates. From Monday 28 June 14:00 GMT until Monday 26 July 2021 (14:00 GMT), fans can mint any amount of default certificates for ~$20 (0.01 ETH) or a deluxe certificate for ~$100 (0.05 ETH) until supply (100) lasts. After the campaign ends, no new certificates for this edition & story can be minted.
https://tlatcnfts.untitledfrontier.studio
No certificates can be minted until the start date.
Default Certificates
Each default certificate is comprised of the following randomly generated features:
One of 16 colour palettes.
One of 64 reasons to move back to Anchor City. (eg, to build, to dance, to fly, to sing).
Variable heights of the skyscraper barcode and changes in the spacing/patterns.
There's no limit to the available amount of Default Certificates until the end of the campaign date.
Deluxe Certificates
Alongside the components of the default certificates, each deluxe certificate contains:
A different edition title: "DX1" vs "DF1".
Only a maximum of 100 will exist.
The buyer's address will forever be etched into the certificate as a sponsor (even when transferred elsewhere).
The components that make up the certificates are licensed under CC BY-SA 4.0. Thus, you are free to use the NFTs as you wish.
Fun, Technical Details
These anchor certificates are all on-chain in their entirety. The metadata + art are all generated in JSON + SVG by the smart contract itself. Thus, these certificates will last as long as Ethereum lasts!
It was a fun coding challenge to include these randomised components into the certificates. I'm sure that in the future, this will become more complex and interesting over time. The code is available on Github. https://github.com/Untitled-Frontier/tlatc!
The Future
Releasing NFTs for each story in this manner (a campaign timeline) is supposed to mimic the experience we are all familiar with regards to traditional merchandise. When we enjoy something, we want to also purchase the merchandise or the memorabilia. It is, in its own way, an experiment, just as each story will either resonate or not with readers. We want anyone to be able to buy one. We want all to be able to read the story!
We're looking forward to seeing how this all unfolds with you all! If you do purchase a certificate on Monday, come join the Discord! A members-only channel is available for all collectors.
If you enjoyed the story and enjoy the NFTs, please share it!